Toyota Hybrids Lead the Way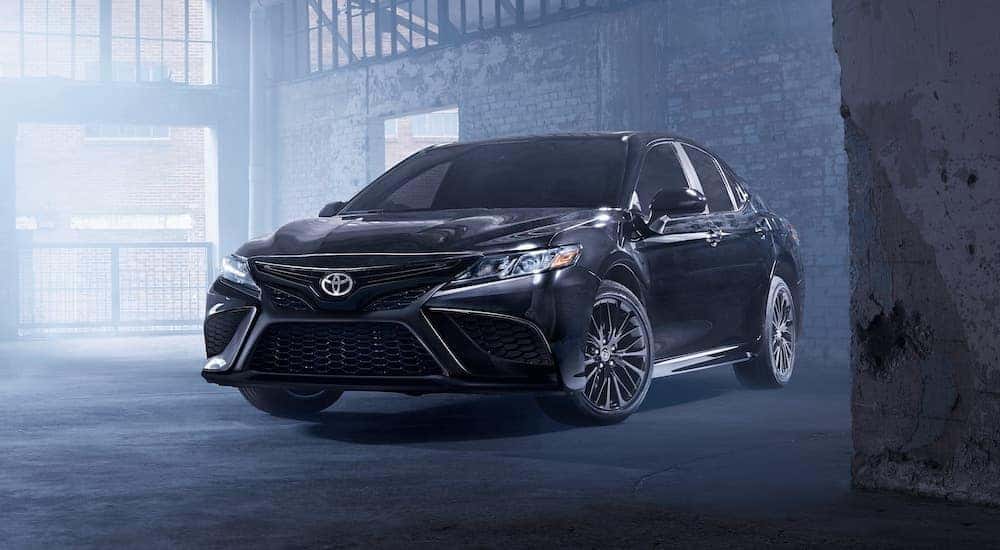 The 1997 Toyota Prius took the world by storm when it delivered an affordable, practical electric-gasoline hybrid powertrain to the masses. Achieving 35 MPG was an astounding 100% improvement over the industry standard of the time, and it set the stage for generations of Toyota leadership in the field of efficient, environmentally-friendly powertrains. What started as a single hybrid vehicle that arrived just in time for the new millennium has evolved into a complete lineup of Toyota hybrids, including Camry, Corolla, Avalon, RAV4, Venza, Highlander, Prius, and Sienna. Plus plug-in hybrid variants of Prius and RAV4 and Toyota's current revolutionary leader, the fuel cell-powered Mirai.
At Romeoville Toyota, we're proud to represent almost every Toyota hybrid on the market today. Toyota stands behind the lineup with incredible warranties for hybrid parts, too. With modern style, ample performance, reasonable pricing, and Toyota's legacy of quality backing them up, America's most fuel-efficient vehicles populate the 2021 Toyota hybrid lineup!
2021 Toyota Camry Hybrid
Camry has offered a hybrid model since 2007. Available in LE, XLE, SE, and (for the first time) XSE trim, the 2021 Camry Hybrid is the most powerful, refined edition with 208 hp combined output and an available sport-tuned suspension for an engaging driving experience. Achieve 52 MPG combined and monitor your energy performance with the onboard Hybrid Energy Monitor. Activate Auto Glide Control in Eco mode to limit engine braking while coasting, and enjoy the near-silent cabin with advanced noise, vibration, and harshness countermeasures incorporated. The 2021 Camry is also the 2nd Toyota to feature a Rear Seat Reminder and one of the first with the new Toyota Safety Sense 2.5+ suite of enhanced driver assistance features. Prices for 2021 Camry Hybrid models start at $27,270.
2021 Toyota Corolla Hybrid
Toyota launched a hybrid version of the world's most popular car in 2020. Of course, it was a hit – it was named Green Car Journal's 2020 green car of the year! Back for 2021, the Corolla LE Hybrid pairs a 1.8L engine to two electric motor/generators for a combined 121 hp output. That's plenty for a small car like Corolla (especially paired with the Hybrid Power drive mode), and it sips gasoline at a rate of 52 MPG combined. With 10 airbags and standard Apple CarPlay, Android Auto, and Amazon Alexa compatibility, the 2021 Corolla Hybrid is safe and well-connected, and it can be yours for only $23,500.
2021 Toyota Avalon Hybrid
Toyota's flagship hybrid sedan drops the old Nickel-metal hydride battery pack and gets a Lithium-ion pack for 2021. The hybrid powertrain generates 176 hp and achieves 44 MPG combined, a remarkable number for a vehicle as large as Avalon. With rear-seat legroom over 40", interior trim featuring authentic Yamaha wood, and a 1200 W JBL sound system, the only thing that isn't luxury about the Avalon is the Toyota brand name. A neat new feature on the Avalon Hybrid for 2021 is a Vehicle Approach Noise for low-speed operation so that the near-silent sedan doesn't surprise pedestrians or kids playing near the roadside. Available in XLE, XSE, and Limited trims, the Avalon starts at $37,000, a price that reflects the combination of Toyota value and premium design.
2021 Toyota RAV4 Hybrid and RAV4 Prime
In 2019, the RAV4 finally stole Prius' crown as the most popular hybrid vehicle in America. Today the RAV4 Hybrid lineup consists of LE, XLE, XLE Premium, XSE, and Limited models, ranging from $28,500 – $37,030 in starting price, offering any RAV4 buyer a reasonably priced hybrid alternative. These models use a 2.5L engine in a hybrid system that's been refined to deliver a thermal efficiency of 41% – those who've studied thermodynamics will recognize that as an incredible achievement for a combustion engine, which typically achieves 25-30% thermal efficiency in modern vehicles. The result is a system output of 219 hp and a combined fuel efficiency of 40 MPG, despite the tall profile and electronically-controlled on-demand AWD system, which uses an independent rear motor to drive the rear wheels instead of diverting torque from the engine.
The peak of RAV4 design is not the Hybrid; however – it's the 2021 RAV4 Prime. The Prime is a plug-in hybrid electric vehicle, capable of up to 42 miles of electric-only driving and making a whopping 94 MPGe in hybrid mode. The Prime is a performance-oriented SUV that justifies its $38,100 – $41,425 price tag in SE and XSE trim by loading up on premium features and delivering the most exciting RAV4 ever built. A combined 302 hp sees the RAV4 Prime to a 0-60 time of only 5.7 seconds, making it Toyota's quickest 4-door vehicle. Premium features like a power moonroof, auto-dimming rear-view mirror, and a wireless phone charger help round out a Prime package that's arguably the best RAV4 ever built.
2021 Toyota Venza
While the RAV4 leans towards sporty performance and off-road ability, the all-hybrid 2021 Toyota Venza emphasizes sedan-like comfort with crossover utility. An available Star Gaze fixed panoramic glass roof can be frosted over with the push of a button to keep the interior bright but comfortable. Premium options like a JBL 1,200 W sound system, a 12.3" infotainment touchscreen, and a 10" HUD round out the Venza's tech headlines. On top of that, Venza is expected to deliver up to 40 combined MPG with 219 total hp and standard on-demand AWD for appropriately SUV-like handling. From the base, LE trim through XLE to Limited ($32,470 – $39,800), there are power-adjustable driver seats and a cabin that has been strategically and passionately soundproofed come standard.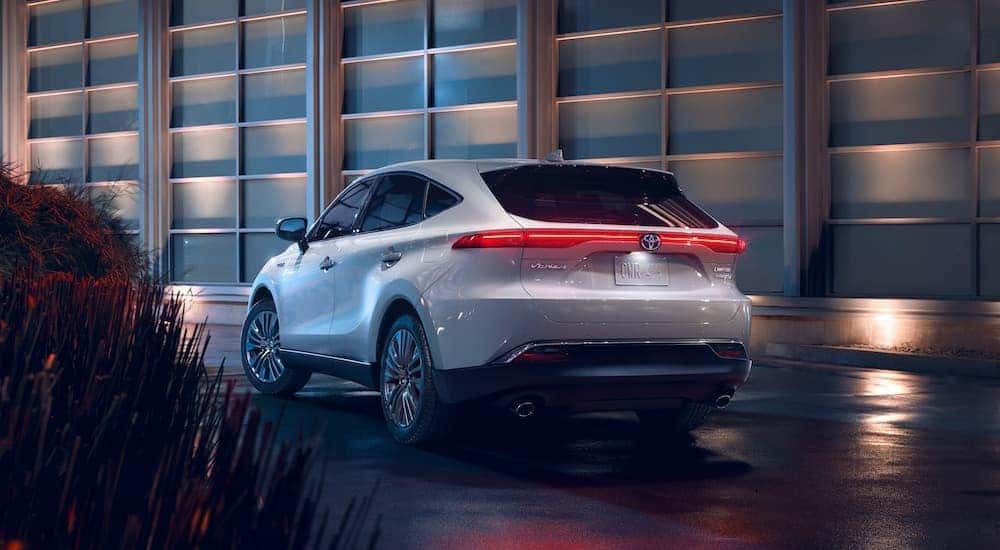 2021 Toyota Highlander Hybrid
Toyota's fabulous family SUV is offered with a hybrid powertrain in LE, XLE, Limited, and Premium trim for 2021, with prices ranging from $38,410 to $48,365. The 8-seat crossover is among the first to offer Toyota Safety Sense 2.5+, which is standard in 2021 and includes enhanced driver assistance features like intersection support for the Pre-Collision System. When signaling a left turn, the system can monitor oncoming traffic and pedestrians in the crosswalk to identify potential collisions, using automatic braking and steering assistance to help you avoid disasters.
The Highlander is also focused on ensuring that you put your best drive forward. The 243 hp powertrain is rated to a combined 36 MPG, and the Predictive Efficient Drive feature helps you achieve that by analyzing your daily habits and road conditions to manage the battery charge cycles more efficiently. An available AWD system automatically distributes driving force to the rear wheels as needed, and a selectable Trail Mode optimizes performance for the mild off-roading that Highlander is suitable for. There's more than meets the eye to Toyota's comfortable crossover!
2021 Toyota Prius and Prius Prime
Toyota's signature hybrid vehicle has a mid-grade trim similar to XLE with unique badging and styling elements. Although RAV4 has displaced it as the best-selling hybrid model on the market, the Prius still has a lot of gas in the tank. The 121 hp powertrain intelligently manages vehicle systems and battery vs engine use to achieve a combined estimated efficiency of 56 MPG. An available AWD system can provide four-wheel traction at speeds up to 43 mph during inclement weather. The 2021 Prius sells for $24,525-$32,650 and rivals SUVs for cargo space with 50.7 cu.ft. The Prius is perennially the smartest hybrid pick on the market.
The Prius Prime is the ultimate Toyota hybrid. The plug-in Prius has an electric-only driving range of up to 25 miles, and with a full tank of gas, it can run 640 miles before needing a pit stop. 54 MPG combined in hybrid mode and a total of 133 MPGe when fully charged means the Prius Prime is virtually unstoppable. Available in LE, XLE, and Limited trims for $28,200-$34,000, it's also one of the cheapest electric vehicles you can buy. However, it still comes well-appointed with heated seats and smart flow climate control to keep all passengers comfy and minimize energy use in the process.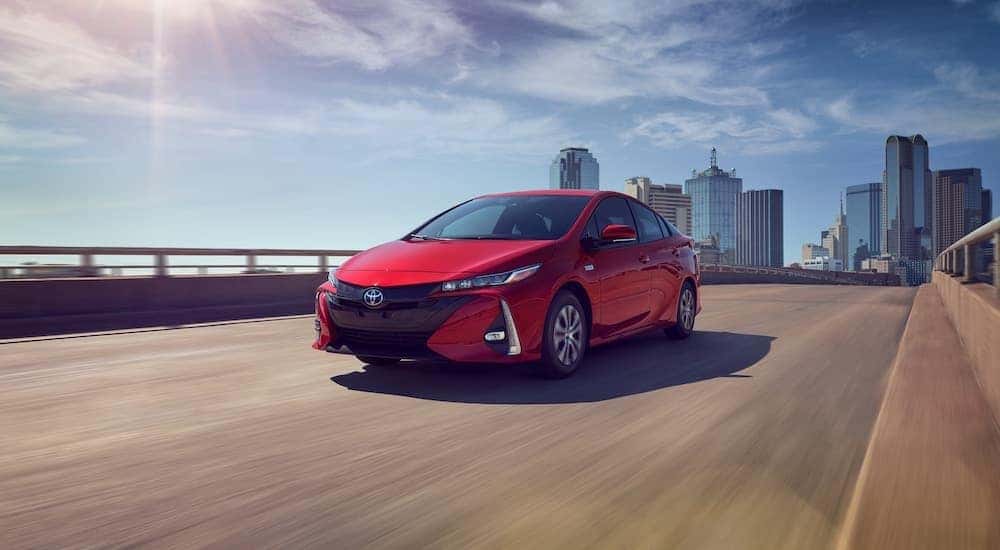 2021 Toyota Sienna
The Toyota Sienna enters an all-new 4th generation in 2021, and its future is electric. Every Sienna is delivered with a hybrid powertrain producing 245 hp and 36 MPG combined, making it the most fuel-efficient minivan on the market. The Sienna delivers an athletic look and feel with a delightfully refined interior character. An available 4-zone climate control system is the best in class.
Second-row captain's chairs slide up to 25" and include built-in ottomans for maximum comfort. The Sienna is ready for big family adventures, too, delivering 38" of third-row legroom, up to 101 cu.ft. of cargo volume, available on-demand AWD and a towing capacity of 3,500 lbs. The AWD can operate as FWD or use the rear axle motor to provide up to 80% of the full driving power from the rear when accelerating from a standstill. While minivans aren't as popular as they used to be, the stylish, well-appointed, incredibly capable, and efficient 2021 Sienna is aiming to change that.
Primed for the Future
Toyota's extensive hybrid vehicle lineup offers just about any experience you can think of – moderate off-roading with RAV4, family camping trips with Sienna and Highlander, elegant cruising with Avalon, and practical, long-range commuting with Prius, Camry, and Corolla. The only thing missing is a pickup! Offered at affordable prices and backed by incredible warranties, these ultra-efficient Toyota hybrids are here to make the greater Chicago area a greener place for everyone. Visit Romeoville Toyota today to find your perfect hybrid.