2021 Toyota Mirai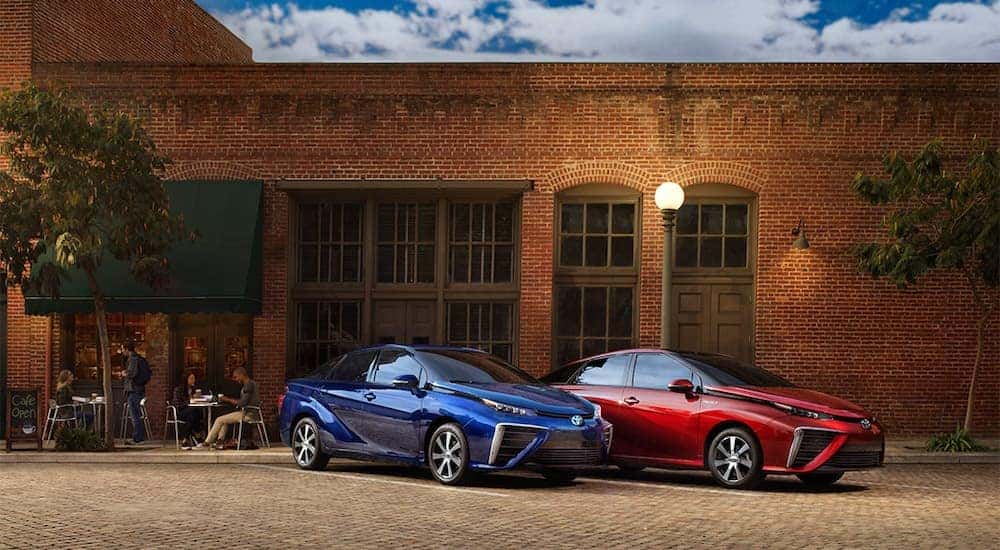 The 2021 Toyota Mirai is now available at a Toyota dealer near you with a reinvented design and hydrogen power! Toyota is amping up the beauty and fuel efficiency of the electric fuel cell electric Mirai with a rebooted appearance. The new design is sleek and elegant, with its looks only enhanced by the knowledge that it packs plenty of new features to boot – the most exciting of which is the fact that its hydrogen car has a better driving range. Let's dive into all the 2021 Toyota Mirai has to offer!
2021 Toyota Mirai Exterior and Engine
The first Toyota Mirai came on the scene in 2016, and, true to Toyota's characteristic approach to automotive innovation, it's been pushing the envelope ever since. Since its 2016 birth, the Mirai (which means "future" in Japanese) has developed leaps and bounds with a classier exterior and boosted technology and safety features. One of the 2021 Toyota Mirai's most noticeable changes beyond its revamped looks is the transition from front-wheel drive to rear-wheel drive. The 2021 Toyota Mirai currently enjoys the honor of taking its place in a class of just three hydrogen-powered fuel-cell electric cars marketed today. Of the three, the 2021 Toyota Mirai is arguably the most attractive and stylish inside and out.
What's new with the 2021 Toyota Mirai? The 2021 Mirai distances itself from previous versions with an extended hood, short rear deck, and sharper styling. The Mirai has grown since you last saw it, now measuring 195 inches in length, which is roughly the size of the Toyota Camry. The Mirai was also lowered, with a roof that tapers smoothly down into the tail to give the car a sleek, elongated appeal. The enhanced aerodynamics help decrease drag at higher speeds, which increases efficiency.
The 2021 Mirai has also seen a significant boost in performance, which has only been enhanced by the move to rear-wheel drive (making it the only rear-wheel drive sedan Toyota sells). This sportier drivetrain will help you take to the highway and tackle those corners with increased fluidity. The 2021 Mirai also has 20-inch tires and wheels, further improving overall handling. Overall, you will hardly recognize this redesigned exterior from its earlier counterparts as it has developed exponentially in style and efficiency, a testament to Toyota's keen eye for beauty and practicality!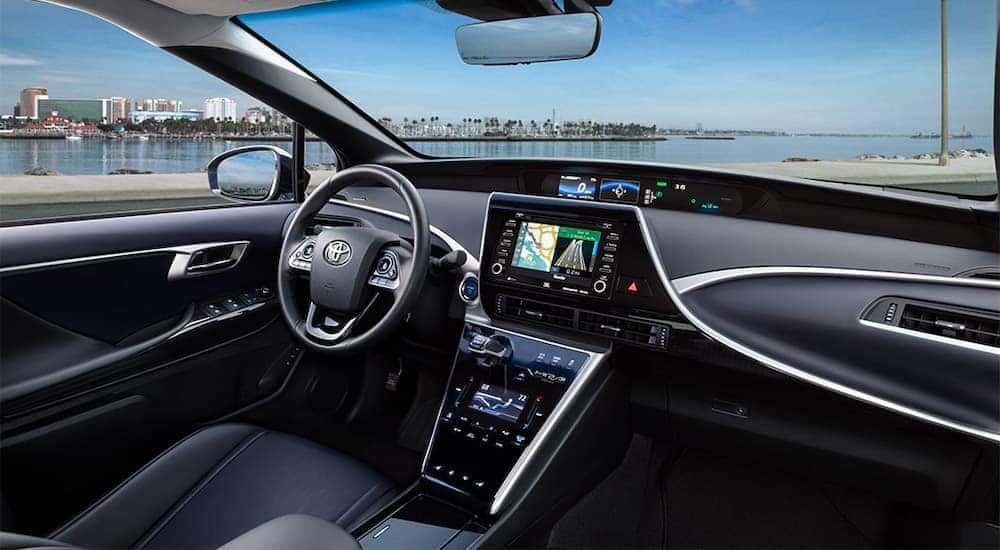 2021 Toyota Mirai Interior
When we said that the 2021 Toyota Mirai is completely rebooted, we weren't kidding! The head-to-toe reinvention is clear in its cabin makeover that adds plenty of technological upgrades while still retaining its classy minimalism. One of the best aspects of the 2021 Mirai's large 12.3-inch high-resolution touchscreen display is the ability to customize the display to fit your needs. The display also works in conjunction with your phone to make hands-free calls, stream music, or display navigation information. The Mirai allows you to take advantage of its map features with Android Auto compatibility so that you get where you're going as quickly as you do efficiently!
The Mirai is not just about style but about functionality and connection, even when you're on the road. The large screen also supports multiple features at once so that you can take advantage of the maps features while a passenger uses the same screen for making calls or playing music. And speaking of music, the Mirai has an impressive 14-speaker JBL audio system to make those long-distance excursions or trips downtown more entertaining!
The 2021 Toyota Mirai has enough to boast of, but safety is certainly among those features that Toyota prides itself on. An answer to those many distractions on the road is Mirai's Head-Up Display (HUD), which casts your navigation prompts and speed into eye level so that you never have to take your eyes off traffic or your hands off the steering wheel. Not to mention Mirai has an 8-inch Multi-Information Display (MID) to display safety alerts, music, and more!
With all the technology and safety features to enjoy in the 2021 Toyota Mirai, Toyota hasn't forgotten about comfort. The cabin is quieter and boasts a five-passenger seating capacity. These front and rear seats also feature heating and ventilation to ensure that everyone is comfortable, regardless of the weather outside. The 2021 Toyota Mirai also offers satin-silver or copper accents to give its interior a refined feel. Overall, you can look forward to new and exciting entertainment, functionality, safety, and comfort throughout the 2021 Mirai's interior!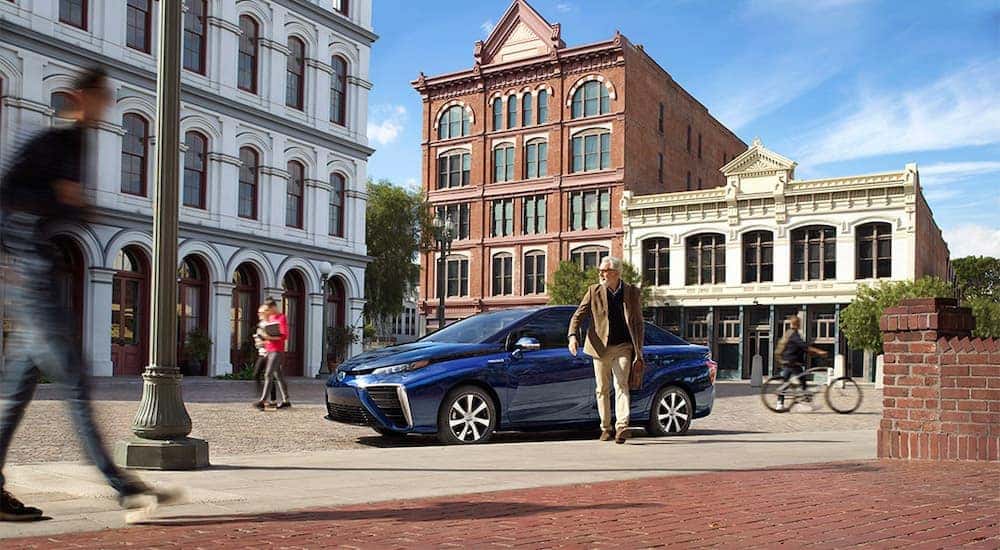 Hydrogen Power
The past few decades have brought an increasing demand for fuel-efficient, high-functioning vehicles. Toyota has proved to be a leader on these fronts, beginning with its legendary Prius that shook the world as a testament to Toyota's promise to a better tomorrow. The Mirai takes on this quest to deliver the best performance and style with the smallest ecological footprint and succeeds far beyond expectations!
The 2021 Toyota Mirai is an electric vehicle that doesn't use any gasoline and never needs to be plugged in to recharge. How is that possible? It uses a hydrogen fuel cell to generate its power rather than a battery pack or hybrid motor. Why is hydrogen power amazing? Hydrogen, at its core, is the most abundant element in the universe and is completely non-toxic.
Combining hydrogen with oxygen from the atmosphere results in a chemical reaction that generates electricity and water. The electricity powers the car, while the water leaves the vehicle through the tailpipe, making the Mirai practically a zero-emissions car. This is a ride you can enjoy guilt-free as you protect the environment and save money on gas in a comfortable and stylish vehicle.
If Toyota's zero-emissions innovation isn't amazing enough, the Mirai has a range of roughly 400 miles (a 30-percent improved driving range compared to earlier models) and takes no more than 5 minutes to refuel. Though EV recharging stations dominate the alternative fuel space across the United States, hydrogen filling stations are already on the map for California and Hawaii. Hydrogen is a clean fuel option, making it an ideal solution for high-traffic, polluted areas. The future is bright, and hydrogen fuel is sure to make waves as innovations in the 2021 Toyota Mirai take off!
Why Shop Romeoville Toyota?
You know that the 2021 Toyota Mirai is amazing, but why shop Romeoville Toyota? We offer a car-buying experience as fast, convenient, and customizable as the Mirai itself. Car-buying isn't easy. How do you know that you're getting the car that best suits your needs at a price you can afford and with a dealership you can trust? We know that you deserve the best deal on a car that fits your needs and your wallet. That's why we make it easy to research and check out our full stock of new and preowned vehicles and our friendly staff is always on hand!
We offer all of the information you need upfront to save you time and effort. Not to mention, we offer a plethora of specials and additional savings for you to take advantage of. Have a question? Need repairs? Are you interested in one of our vehicles? We're here to help! Romeoville Toyota is proud to assist drivers across northern Illinois to find the vehicles they need. So what are you waiting for? Contact us today online or in-person to learn more about Toyota's lineup of efficient and innovative vehicles.